Good morning Richland, it's a chilly Tuesday, but it will be great to see your smiling faces. 2nd quarter ends on Friday and report cards will go home next Friday, January 29. Please make sure you get all of your work in so that your grades give us a better picture of how your learning is coming along.

Today is National Popcorn Day! What a delicious holiday! Maybe of you're lucky, you'll be able to have some delicious popcorn as a snack later today.

Have a wonderful day everyone, stay safe and healthy out there. Wear a mask and wash those hands!

Buenos días Richland, es un martes frío, pero será genial ver sus caras sonrientes. El segundo trimestre termina el viernes y las calificaciones se enviarán a casa el próximo viernes 29 de enero. Por favor, asegúrese de hacer todo su trabajo para que sus calificaciones nos den una mejor idea de cómo va su aprendizaje.

¡Hoy es el Día Nacional de las Palomitas! ¡Qué deliciosas vacaciones! Quizás, si tienes suerte, podrás comer unas deliciosas palomitas como bocadillo más tarde hoy.

Que tengan un día maravilloso para todos, manténganse a salvo y saludables. ¡Use una máscara y lávese las manos!

1/19/21
Good morning everyone, and happy Friday. I know it's a little grey and snowy out there, but's going to be a great one. I can just feel it!

Yesterday, we updated our lunch distribution schedule, you can see it below.

Next Friday, our 2nd quarter ends, and we will end the day at 1:30. Please remind your parents of the early dismissal.

Report Cards will go home electronically on January 29, so please remind your parents to make sure we have their correct email address on file. If they aren't sure, they can reach out to Ms. Sands ksands@d88a.org via email or over the phone.

It is also National Hat Day! If you could wear a hat all the time, what kind would you wear? I think I'd wear a White Sox hat or my ELF winter hat. Both are very fun for me!

Be safe out there everyone and have a wonderful weekend!

Buenos días a todos y feliz viernes. Sé que afuera está un poco gris y nevado, pero será genial. ¡Puedo sentirlo!

Ayer actualizamos nuestro cronograma de distribución de almuerzos, lo puedes ver a continuación.

El próximo viernes, 22 enero, termina nuestro segundo trimestre y terminaremos el día a la 1:30. Por favor recuerde a sus padres de la salida temprana.

Las calificaciones se enviarán a casa electrónicamente el 29 de enero, así que recuerde a sus padres que se aseguren de tener su dirección de correo electrónico correcta en nuestros archivos. Si no están seguros, pueden comunicarse con la Sra. Sands ksands@d88a.org por correo electrónico o por teléfono.

¡También es el Día Nacional del Sombrero! Si pudieras usar un sombrero todo el tiempo, ¿qué tipo usarías? Creo que usaría una cachucha de los White Sox o mi sombrero de invierno ELF. ¡Ambos son muy divertidos para mí!

¡Estén seguros todos y tengan un fin de semana maravilloso!

1/15/21
Good afternoon everyone. Please note our updated schedule for lunch pick-up. Thank you

Buenas tardes a todos. Tenga en cuenta nuestro horario actualizado para la recogida del almuerzo. Gracias

1/14/21
Good morning Richland. It is Thursday and the sun will be shining on this warm, for winter, day. I hope you can get outside for a walk later today once the sun comes out.

Last night the school board approved our learning plan for 3rd quarter. If your parents did not receive it in their email, please let them know that they can find it on this webpage, as well as on our FB page.

Today is lunch distribution day, 7-10 and 2:30 - 5:30. There will be no classes on Monday January 18 in observance of Martin Luther King day. Dr King was a key figure in the fight for civil rights during the 1960's.

Next Friday, January 22, is the end of the 2nd quarter. Please make sure to have all of your work done and turned in before then. You will also be dismissed EARLY on January 22, 1:30 pm.

As always, if your parents have any questions, they can reach out to your teacher or to me directly at jlindsey@d88a.org. Thanks and have a wonderful day!

Buenos días Richland. Es jueves y el sol brillará en este cálido día de invierno. Espero que puedas salir a caminar más tarde hoy, ya que salga el sol.

Anoche, la junta escolar aprobó nuestro plan de aprendizaje para el 3er trimestre. Si sus padres no lo recibieron en su correo electrónico, hágales saber que pueden encontrarlo en esta página web, así como en nuestra página de Facebook.

Hoy es el día de distribución del almuerzo, de 7 a 10 y de 2:30 a 5:30. No habrá clases el lunes 18 de enero en observancia del día de Martin Luther King. El Dr. King fue una figura clave en la lucha por los derechos civiles durante la década de 1960.

El próximo viernes 22 de enero es el final del segundo trimestre. Por favor asegúrese de haber terminado y entregado todo su trabajo antes de esa fecha. También será despedido TEMPRANO el 22 de enero a la 1:30 pm.

Como siempre, si sus padres tienen alguna pregunta, pueden comunicarse con su maestro o conmigo directamente en jlindsey@d88a.org. ¡Gracias y que tengan un día maravilloso!

1/14/21
Happy Wednesday Richland. It's going to be a great day and we're glad that we're together!

Today is "Make Your Dream Come True Day". Think about your dream, maybe what you'd like to be when you grow up, maybe something you'd like to see happen, maybe an invention that you have, and come up with at least 1 thing you can do to help that dream become a reality. I know you have amazing ideas out there so I hope all of those dreams come true!

Feliz miércoles Richland. ¡Va a ser un gran día y estamos contentos de estar juntos!

Hoy es el "Día para que su sueño se haga realidad". Piensa en tu sueño, tal vez en lo que te gustaría ser cuando seas grande, tal vez en algo que te gustaría que suceda, tal vez en un invento que tengas, y piensa en al menos una cosa que puedas hacer para ayudar a ese sueño. convertirse en una realidad. Sé que tienes ideas increíbles, ¡así que espero que todos esos sueños se hagan realidad!

1/13/21
Good morning Richland. It's a chilly Tuesday morning, but we are so glad that you're here! Even though we can't be in the same place yet, it is still a great day when we can see your smiling faces on the computer. Please know that we miss you and we want you to stay safe so that when we get the word, we'll be able to see you back in school nice and healthy!

Buenos días Richland. Es un martes frío, ¡pero estamos muy contentos de que estés aquí! Aunque todavía no podemos estar en el mismo lugar, sigue siendo un gran día en el que podemos ver sus caras sonrientes en la computadora. Por favor, sepan que los extrañamos y queremos que se mantengan a salvo para que, cuando nos enteremos, podamos verlos de regreso en la escuela de manera agradable y saludable.

1/12/21
Welcome back everyone! Monday is here so let's have a great week!

This quarter ends on January 22, so be sure to complete any and all work that your teachers have assigned to you. Please remember that if you are having computer troubles, let your parents know and they can email 88ahelp@d88a.org to get things straightened out.

Lunches are available for pick up on Tuesdays and Thursdays for this week and next. Times are the same, 7-10 and 2:30 - 5:30. If and/or when things change, we will be sure to let you know.

Next week we are off on Monday January 18 in observance of Dr Martin Luther King Jr. Please remind your parents in case they have to make arrangements for child care.

As always, if you have any questions, please do not hesitate to ask.

¡Bienvenidos a todos! ¡El lunes está aquí, tengamos una gran semana!

Este trimestre termina el 22 de enero, así que asegúrese de completar todos y cada uno de los trabajos que sus maestros le hayan asignado. Recuerde que si tiene problemas con la computadora, avísele a sus padres y ellos pueden enviar un correo electrónico a 88ahelp@d88a.org para arreglar las cosas.

Los almuerzos están disponibles para recoger los martes y jueves para esta semana y la próxima. Los horarios son los mismos, de 7 a 10 y de 2:30 a 5:30. Si y / o cuando las cosas cambien, nos aseguraremos de informarle.

La próxima semana saldremos el lunes 18 de enero en conmemoración del Dr. Martin Luther King Jr. Por favor, recuérdeles a sus padres en caso de que tengan que hacer arreglos para el cuidado de los niños.

Como siempre, si tiene alguna pregunta, no dude en preguntar.

1/11/21
Good morning Richland and happy Friday! Another week has come to an end, and I hope you've enjoyed seeing your teachers as much as they've enjoyed seeing you. It has been a very strange week in some ways, but know that there are people that care for you and are there if you ever need to talk or have questions.

For the next 2 weeks we will continue distributing lunches twice a week on Tuesdays and Thursdays. If any changes are made for the third quarter, we will be sure to let you know.

I hope you have a great weekend and are able to play outside for a bit to enjoy the sunshine. Have a great day and weekend!

¡Buenos días Richland y feliz viernes! Ha llegado a su fin otra semana y espero que hayas disfrutado de ver a tus profesores tanto como ellos han disfrutado verte a ti. Ha sido una semana muy extraña en algunos aspectos, pero debes saber que hay personas que se preocupan por ti y están ahí si alguna vez necesitas hablar o tienes preguntas.

Durante las próximas 2 semanas continuaremos distribuyendo almuerzos dos veces por semana los martes y jueves. Si se realizan cambios para el tercer trimestre, nos aseguraremos de informarle.

Espero que tengan un gran fin de semana y pueden jugar al afuera un poco para disfrutar del sol. ¡Que tengan un gran día y fin de semana!

1/8/2021
It's Thursday, Richland. Let's have a wonderful day! Today we have a very cool fun fact! Did you know that a bat is the only mammal that can fly? How cool is that? Humans don't count, because it's actually the airplane that does the flying!

We have lunch pick up today 7-10 and 2:30 - 5:30. Please remind your parents in case they would like to pick up lunches.

Have a wonderful day everyone!

Es jueves, Richland. ¡Tengamos un día maravilloso! ¡Hoy tenemos un dato muy divertido! ¿Sabías que un murciélago es el único mamífero que puede volar? ¿Cuan genial es eso? Los humanos no cuentan, ¡porque en realidad es el avión el que vuela!

Recogemos el almuerzo hoy de 7 a 10 y de 2:30 a 5:30. Por favor, recuérdeles a sus padres en caso de que quieran recoger el almuerzo.

¡Que todos tengan un maravilloso día!

1/7/21
Good morning Richland. We are so glad to have you back with us. Our attendance was over 90% yesterday! Congratulations on the great job! Let's finish off this 2nd quarter strong and shake off any rust that may have gathered on our brains over break. Be sure to let your teacher know if you have any questions or troubles with anything and we will do our best to help you out as quickly as we can. Have a great day!

Buenos días Richland. Estamos muy contentos de tenerte de regreso con nosotros. ¡Nuestra asistencia fue superior al 90% ayer! ¡Felicitaciones por el gran trabajo! Terminemos este segundo trimestre con fuerza y ​​sacudiremos cualquier óxido que se haya acumulado en nuestros cerebros durante el descanso. Asegúrese de informarle a su maestro si tiene alguna pregunta o problema con algo y haremos todo lo posible para ayudarlo lo más rápido posible. ¡Que tengan un gran día!

1/6/21
Good morning Richland, welcome back! I hope you have had a relaxing break and are ready to get back to learning. We've certainly missed you, so we're glad to get going again.

Today we resumed lunch distribution. Hours remain the same, 7-10 and 2:30 - 5:30 and I have included the schedule so that you also have the days of distribution.

Please remember the expectations for using school computers. Only visit sites that are school appropriate and never have your Chromebook open if you are walking around.

The official decision for in-school learning will be made at this month's School Board Meeting. Please remind your parents to complete the survey either through the email link they were sent, or through the COVID link on our school webpage.

This 2nd quarter ends on January 22, so please keep up with your work. There isn't a lot of time to catch up if you fall behind. If you find yourself stuck and not understanding something, please reach out to your teacher as soon as you can for extra help.

Let's have a great 2021, Richland, I believe in YOU!

Buenos días Richland, ¡bienvenido de nuevo! Espero que haya tenido un descanso relajante y esté listo para volver a aprender. Ciertamente te hemos echado de menos, así que estamos contentos de empezar de nuevo.

Hoy reanudamos la distribución del almuerzo. El horario sigue siendo el mismo, 7-10 y 2:30 - 5:30 y he incluido el horario para que tú también tengas los días de distribución.

Recuerde las expectativas para el uso de las computadoras de la escuela. Solo visite sitios que sean apropiados para la escuela y nunca tenga su Chromebook abierto si está caminando.

La decisión oficial para el aprendizaje en la escuela se tomará en la reunión de la Junta Escolar de este mes. Por favor recuerde a sus padres que completen la encuesta ya sea a través del enlace de correo electrónico que se les envió o mediante el enlace COVID en la página web de nuestra escuela.

Este segundo trimestre termina el 22 de enero, así que manténgase al día con su trabajo. No hay mucho tiempo para ponerse al día si se queda atrás. Si se encuentra atascado y no comprende algo, comuníquese con su maestro lo antes posible para obtener ayuda adicional.

Tengamos un gran 2021, Richland, ¡creo en TI!

1/5/21
Good morning Richland! It's Friday, and the last day before winter break! I know we are all super excited about a vacation, but please remember that you still have school today and there is work to be done. Maybe your teacher has some fun activities for you all, but you have to get your work done before the fun can happen. Thank you for understanding.

We will return to online classes on Tuesday January 5, 2021 at 9 am sharp. During the break, please remember the rules for your school Chromebook. In fact, the best thing to do is to store your computer in a safe place, and make sure that it is charged and ready to go when classes start again.

Lunch pick up will also return on January 5 at the same times, 7-10 and 2:30 - 5:30.

If you have any questions during vacation, email us and we will do our best to respond in a timely manner.

From the whole Richland family to yours, HAVE A WONDERFUL HOLIDAY SEASON!

¡Buenos días Richland! ¡Es viernes y el último día antes de las vacaciones de invierno! Sé que todos estamos muy emocionados con las vacaciones, pero recuerden que todavía tienen escuela hoy y hay trabajo por hacer. Tal vez su maestro tenga algunas actividades divertidas para todos ustedes, pero deben terminar su trabajo antes de que la diversión pueda suceder. Gracias por entender.

Regresaremos a las clases en línea el martes 5 de enero de 2021 a las 9 am en punto. Durante el receso, recuerde las reglas de la Chromebook de su escuela. De hecho, lo mejor que puede hacer es guardar su computadora en un lugar seguro y asegurarse de que esté cargada y lista para comenzar cuando las clases comiencen nuevamente.

La recogida del almuerzo también regresará el 5 de enero a las mismas horas, 7-10 y 2:30 - 5:30.

Si tiene alguna pregunta durante las vacaciones, envíenos un correo electrónico y haremos todo lo posible para responder de manera oportuna.

De toda la familia de Richland a la suya, ¡TENGA UN MARAVILLOSO VACACIONES!

12/18/2020
Good morning everyone. Thursday is here as we're 1 day closer to Christmas break! Please be sure to complete any work that you have due, so that you can have a relaxing break.

Today is the last day of lunch pick up. 7-10 and 2:30 - 5:30. It will resume when we return on Tuesday January 5, 2021.

Today is National Maple Syrup day! Maybe you're having some waffles or pancakes for breakfast and are getting to enjoy some of that sweet goodness. Of course, you could be Buddy the Elf and put some on your spaghetti. Not sure I want to try that one!

Have a great day everyone!

Buenos días a todos. ¡El jueves está aquí ya que estamos 1 día más cerca de las vacaciones de Navidad! Asegúrese de completar cualquier trabajo que tenga pendiente, para que pueda tener un descanso relajante.

Hoy es el último día de recogida del almuerzo. 7-10 y 2:30 - 5:30. Se reanudará cuando regresemos el martes 5 de enero de 2021.

¡Hoy es el día nacional del jarabe de arce! Tal vez estés desayunando waffles o panqueques y estés disfrutando de esa dulce bondad. Por supuesto, podrías ser Buddy the Elf y poner un poco de espagueti. ¡No estoy seguro de querer probar eso!

¡Tengan todos un buen día!

12/17/2020
Good morning Richland, it is Wednesday and it will be a beautiful day! It is Grinch Day here at school, so hopefully you're wearing something GREEN.

Today is also National Chocolate Covered ANYTHING Day! WOW! Who even knew this day existed?? I didn't! Maybe I can cover my soup with chocolate? How about a ham sandwich? Let's try it!

Today is also William 'The Refrigerator' Perry's birthday! Your parents and grandparents will know him as an awesome player for the Bears. He was so big, that they gave him the nickname 'Refrigerator'.

Reminder that tomorrow, Thursday December 17, will be our last lunch pickup until we return from winter break. Lunch distribution will resume on Tuesday January 5, 2021.

Stay safe out there!

¡Buenos días Richland, es miércoles y será un hermoso día! Es el Día del Grinch aquí en la escuela, así que espero que estés vestido en algo VERDE.

¡Hoy también es el Día Nacional del Chocolate Cubierto de CUALQUIER COSA! ¡GUAUU! ¿Quién sabía que existía este día? Yo no

! ¿Quizás pueda cubrir mi sopa con chocolate? ¿Qué tal un sándwich de jamón? ¡Vamos a intentarlo!

¡Hoy también es el cumpleaños de William 'The Refrigerator' Perry! Tus padres y abuelos lo conocerán como un gran jugador de los Bears. Era tan grande, que le pusieron el sobrenombre de 'Refrigerador'.

Recuerde que mañana, jueves 17 de diciembre, será nuestro último almuerzo hasta que regresemos de las vacaciones de invierno. La distribución del almuerzo se reanudará el martes 5 de enero de 2021.

¡Mantente a salvo ahí fuera!

12/16/2020
Happy Tuesday everyone! Today is Candy Cane day for Spirit week! It is also National Cup Cake day! Wow, what a great day for treats! Hopefully you can have one if you're lucky. Have a great day Richland!

¡Feliz martes a todos! ¡Hoy es el día del bastón de caramelo para la semana del espíritu! ¡También es el día nacional de la torta de la Copa! ¡Qué gran día para las golosinas! Ojalá puedas tener uno si tienes suerte. ¡Que tengas un gran día Richland!

12/15/2020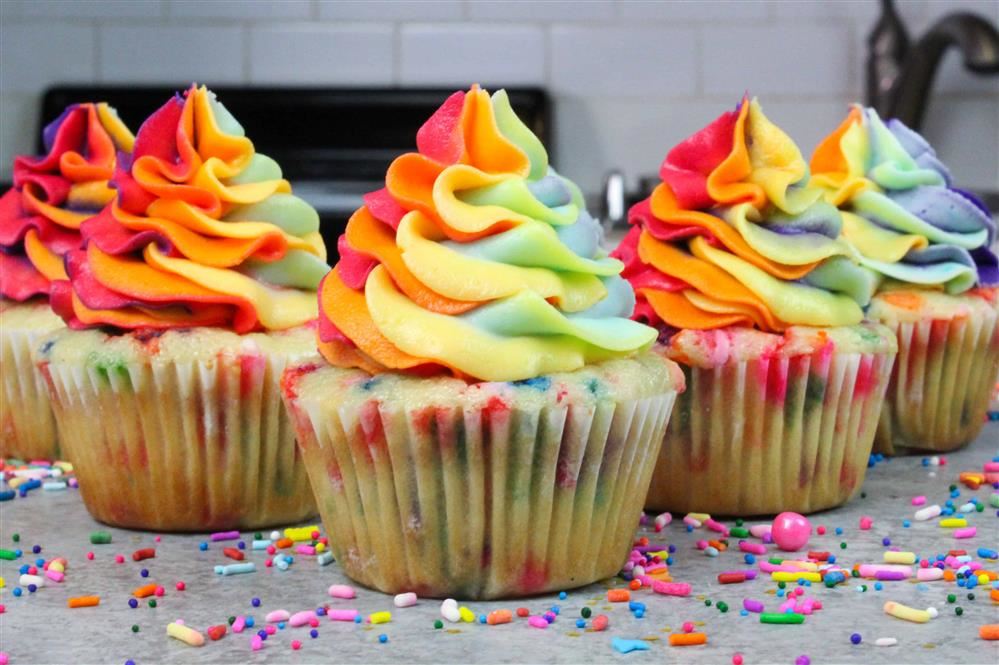 Good morning everyone! Happy Monday! Not only that, but it is the last Monday before winter break! I know you're probably excited to be away from the computer for a couple of weeks, but we are certainly going to miss you. Everyone needs to recharge their batteries though, and this is the perfect time to do it.

As a reminder, lunch pick up for this week will be the last until we come back on January 5. Please remember that the times for Tuesday and Thursday are the same, 7-10 and 2:30 - 5:30.

On Wednesday evening we will hold our School Board Meeting. Please remind your parents to contact Mrs Kemp akemp@d88a.org for an invitation to the online meeting.

I must also ask that you remember to come back to class after lunch. Unfortunately we have had a lot of students take the afternoon off, which results in a half-day absence. We need you back to complete your school day.

For Spirit Week, today is our Winter White Out day! Hopefully you remembered and you're wearing white today. We'll have a different fun request every day this week. Please scroll down a little bit to see the schedule. Have a great day Richland!

¡Buenos días a todos! ¡Feliz lunes! No solo eso, ¡es el último lunes antes de las vacaciones de invierno! Sé que probablemente estés emocionado de estar lejos de la computadora por un par de semanas, pero ciertamente te extrañaremos. Sin embargo, todos necesitan recargar sus baterías y este es el momento perfecto para hacerlo.

Como recordatorio, la recogida del almuerzo de esta semana será la última hasta que regresemos el 5 de enero. Recuerde que los horarios del martes y jueves son los mismos, de 7 a 10 y de 2:30 a 5:30.

El miércoles por la noche tendremos nuestra reunión de la junta escolar. Por favor recuerde a sus padres que se comuniquen con la Sra. Kemp akemp@d88a.org para recibir una invitación a la reunión en línea.

También debo pedirle que recuerde volver a clase después del almuerzo. Desafortunadamente, muchos estudiantes se han tomado la tarde libre, lo que resulta en una ausencia de medio día. Necesitamos que regreses para completar tu día escolar.

¡Para la Semana del Espíritu, hoy es nuestro día de Winter White Out! Ojalá lo recuerdes y te vistes de blanco hoy. Tendremos una solicitud divertida diferente todos los días de esta semana. Desplácese hacia abajo un poco para ver el horario. ¡Que tengas un gran día Richland!

12/14/2020
Happy Friday! The weekend is here and we're just as excited as you are! I have a few notes for you this morning.

Please remember that next week is the last week of school before Christmas break. We will see you back online on Tuesday January 5, 2021.

Lunch pick up next week will be on Tuesday and Thursday at the usual times, 7-10 and 2:30 - 5:30. Thursday December 17 will be the last lunch pick up until Tuesday January 5, 2021.

Please remember, if your student does not come back online after lunch, it is counted as an absence. I will make sure to get that message out again more frequently, as we have students with quite a few absences.

On a lighter note, next week will will have a virtual spirit week! Take a look at the schedule below, and join in the fun if you can! Have a great day everyone!

¡Feliz viernes! ¡El fin de semana está aquí y estamos tan emocionados como tú! Tengo algunas notas para ti esta mañana.

Recuerde que la próxima semana es la última semana de clases antes de las vacaciones de Navidad. Nos veremos de nuevo en línea el martes 5 de enero de 2021.

La recogida del almuerzo de la próxima semana será los martes y jueves en el horario habitual, de 7 a 10 y de 2:30 a 5:30. El jueves 17 de diciembre será el último almuerzo hasta el martes 5 de enero de 2021.

Por favor recuerde, si su estudiante no vuelve a conectarse después del almuerzo, se cuenta como una ausencia. Me aseguraré de difundir ese mensaje con más frecuencia, ya que tenemos estudiantes con bastantes ausencias.

En una nota más ligera, ¡la próxima semana tendrá una semana espiritual virtual! ¡Eche un vistazo al programa a continuación y únase a la diversión si puede! ¡Tengan todos un buen día!

12/11/2020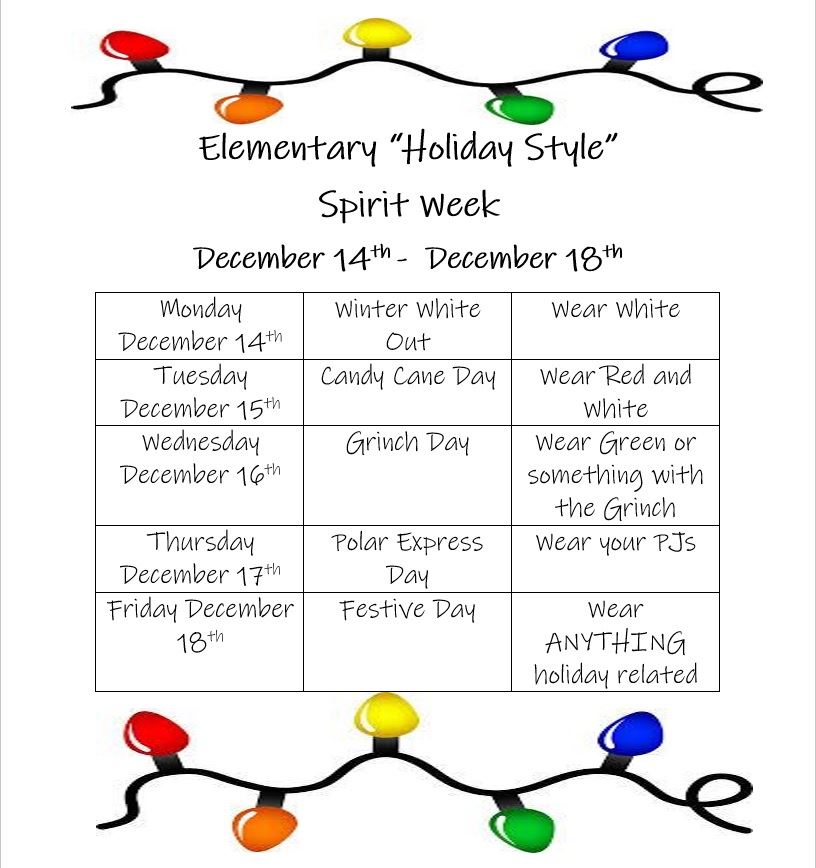 Good morning Richland, Thursday is here and it's going to be a great day! It's a little chilly now, but it should be almost 55 later! Woo-hoo! Be sure to take a break later to get some fresh air!

Lunch pick up is happening today from 7-10 and 2:30 - 5:30. There is one more week of lunch pick-up before we go on winter vacation.

Today is Dewey Decimal Day! The day where we remember the man who invented the system for organizing our libraries! Can you imagine going into a library and not knowing how to find a book? Before the Dewey Decimal System came along, libraries could each use a different system for organizing their books. Yikes! Good thing we have the system. Mrs. Patti and Mrs. Plyer already do a lot for us, it would be even more work if there was no organizational system!

Buenos días Richland, el jueves está aquí y va a ser un gran día. ¡Hace un poco de frío ahora, pero deberían ser casi 55 mas tarde! ¡Woo-hoo! ¡Asegúrese de tomar un descanso más tarde para tomar aire fresco!

La recogida del almuerzo se llevará a cabo hoy de 7 a 10 y de 2:30 a 5:30. Hay una semana más para recoger el almuerzo antes de irnos de vacaciones de invierno.

¡Hoy es el Día Decimal Dewey! ¡El día en que recordamos al hombre que inventó el sistema para organizar nuestras bibliotecas! ¿Te imaginas entrar en una biblioteca y no saber cómo encontrar un libro? Antes de que apareciera el sistema decimal de Dewey, las bibliotecas podían usar un sistema diferente para organizar sus libros. ¡Ay! Menos mal que tenemos el sistema. La Sra. Patti y la Sra. Plyer ya hacen mucho por nosotros, ¡sería aún más trabajo si no hubiera un sistema de organización!

12/10/2020
Happy Wednesday everyone. I know the sun wasn't shining when we woke up this morning, but it's out now! We're so glad you're able to join us again today. Welcome back!

Today is Christmas Card Day! Does your family send out cards? Some do, some don't. Maybe your family celebrates another holiday at this time, do you send out cards? Cards are just one way to let people know that you are thinking of them. Maybe if you have a chance today, you can make a card for someone special. It doesn't have to be a Christmas card, it could be whatever you want it to be. Maybe just a 'Hello' card? I'm sure they would appreciate it! Have a great day everyone!

Feliz miércoles a todos. Sé que el sol no brillaba cuando nos despertamos esta mañana, ¡pero ya salió! Estamos muy contentos de que puedes volver a unirse con nosotros hoy. ¡Bienvenidos!

¡Hoy es el día de la tarjeta de Navidad! ¿Su familia envía tarjetas? Algunos lo hacen, otros no. Tal vez su familia celebre otra festividad en este momento, ¿envía tarjetas? Las tarjetas son solo una forma de hacerles saber a las personas que estás pensando en ellas. Tal vez si tiene la oportunidad hoy, pueda hacer una tarjeta para alguien especial. No tiene que ser una tarjeta de Navidad, puede ser lo que quieras que sea. ¿Quizás solo una tarjeta de 'Hola'? ¡Seguro que lo agradecerán! ¡Tengan todos un buen día!

12/9/2020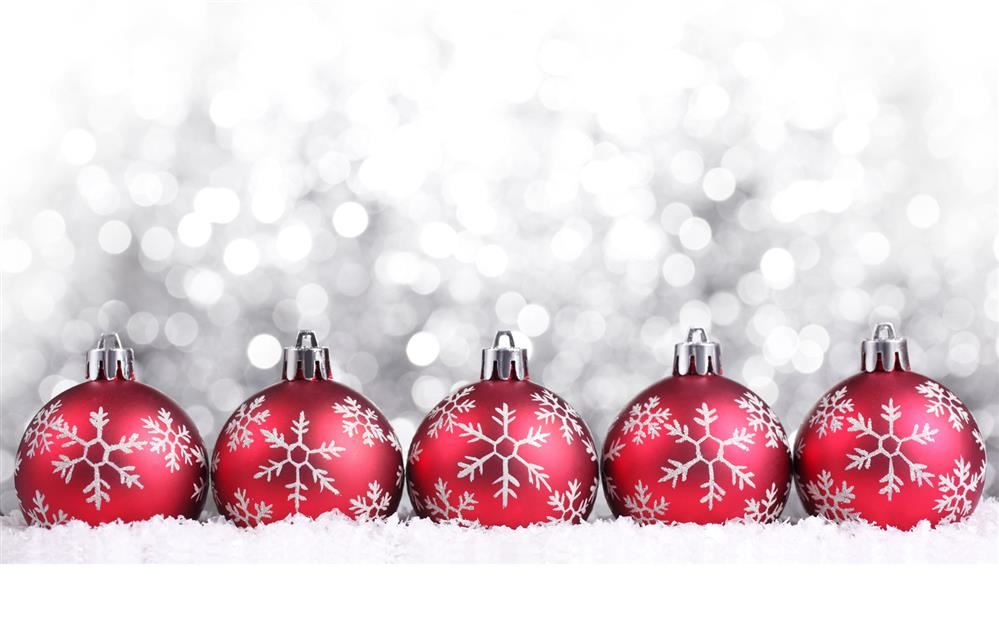 Good morning Richland! It's Tuesday and we're glad to see you. It's funny how most of the special days I point out have to do with food. Maybe because I love eating! Today is National Brownie Day! Yummy chocolatey goodness! I hope you get to try a brownie today! Stay safe and warm out there. Wash your hands often and wear a mask if you go anywhere. Have a great day!

¡Buenos días Richland! Es martes y nos alegra verte. Es curioso cómo la mayoría de los días especiales que comparto con uds tienen que ver con la comida. ¡Quizás porque me encanta comer! ¡Hoy es el Día Nacional del Brownie! ¡Deliciosa bondad de chocolate! ¡Espero que pruebes un brownie hoy! Mantente a salvo y abrigado ahí fuera. Lávese las manos con frecuencia y use una mascarilla si va a cualquier parte. ¡Que tengas un gran día!

12/8/2020
Good morning everyone, and welcome back! It's a bright and sunny morning out there and we are glad to have you with us. I hope you had a nice weekend with lots of fun times. We are excited to start another school week together and are glad to have you.

Just a reminder that lunches are available twice a week, on Tuesdays and Thursdays at the regular times, 7-10 am and 2:30 - 5:30 pm.

Today is actually Walt Disney Day! A day to remember and enjoy the works of the creator of Mickey Mouse and all of his friends. Today, the Disney company owns lots of different characters and there are lots of places to see their art and creativity. Hopefully you'll get a chance to enjoy some today. Have a great day everyone!

¡Buenos días a todos y bienvenidos! Es una mañana luminosa y soleada y estamos encantados de tenerte con nosotros. Espero que hayas tenido un buen fin de semana con muchos momentos divertidos. Estamos emocionados de comenzar otra semana escolar juntos y estamos contentos de tenerlos.

Solo un recordatorio de que los almuerzos están disponibles dos veces por semana, los martes y jueves en el horario habitual, de 7 a 10 am y de 2:30 a 5:30 pm.

¡Hoy es el Día de Walt Disney! Un día para recordar y disfrutar las obras del creador de Mickey Mouse y todos sus amigos. Hoy, la compañía Disney posee muchos personajes diferentes y hay muchos lugares para ver su arte y creatividad. Ojalá tengas la oportunidad de disfrutarlo hoy. ¡Tengan todos un buen día!

12/7/2020
Happy Friday Richland! It's sunny outside, and we can spend time online together, so it's a good day! Hopefully you and your family are staying safe out there. Keep washing your hands, and wear a mask if you have to leave the house and go into somewhere. We want you to stay healthy!

Today is National Cookie Day! MAYBE you'll be lucky enough to have a delicious cookie today. I don't think I will be, but maybe you will! Maybe even bake some of your own! Well, it would be a great tasty treat! Have a great weekend!

¡Feliz Viernes Richland! Hace sol afuera y podemos pasar tiempo juntos en línea, ¡así que es un buen día! Ojalá usted y su familia estén a salvo allí. Sigue lavándote las manos y usa una máscara si tienes que salir de casa e ir a algún lugar. ¡Queremos que se mantenga saludable!

¡Hoy es el Día Nacional de las Galletas! QUIZÁS tengas la suerte de tener una deliciosa galleta hoy. No creo que voy a comerme una ¡pero tal vez tú puedes! ¡Quizás incluso hornee algunos de los suyos! Bueno, ¡sería un delicioso manjar! ¡Ten un excelente fin de semana!

12/4/2020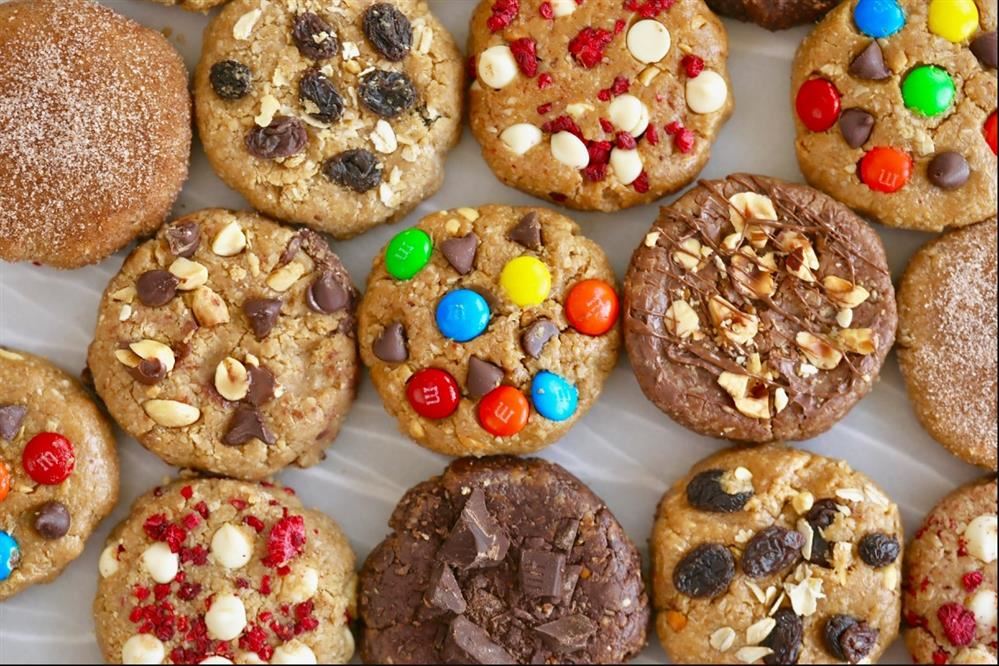 Happy Wednesday everyone! In case you didn't know, IT'S COLD OUT THERE! Oh well, that just means that soon we'll have snow and we can build super cool snowmen outside. I can't wait!

Friday midterms will be sent out. Remember, teachers do not have to send reports for everyone, they have the option to but it is not a requirement. Lunch pick up tomorrow will have meals to carry you through next week and will be available at the regular times, 7-10, and 2:30 - 5:30.

Let's have another great day everyone. We miss you and want you to stay safe out there. Hopefully we can study together soon!

¡Feliz miércoles a todos! En caso de que no lo supieras, ¡HACE FRÍO AFUERA! Bueno, eso solo significa que pronto tendremos nieve y podremos construir muñecos de nieve súper geniales afuera. ¡No me aguanto!

Se enviarán los reportes de progreso en viernes. Recuerde, los maestros no tienen que enviar informes para todos, tienen la opción de hacerlo, pero no es un requisito. El almuerzo para recoger mañana tendrá comidas para la próxima semana y estará disponible en los horarios regulares, de 7 a 10 y de 2:30 a 5:30.

Que tengamos otro gran día. Te extrañamos y queremos que estés a salvo ahí fuera. ¡Ojalá podamos estudiar juntos pronto!

12/2/2020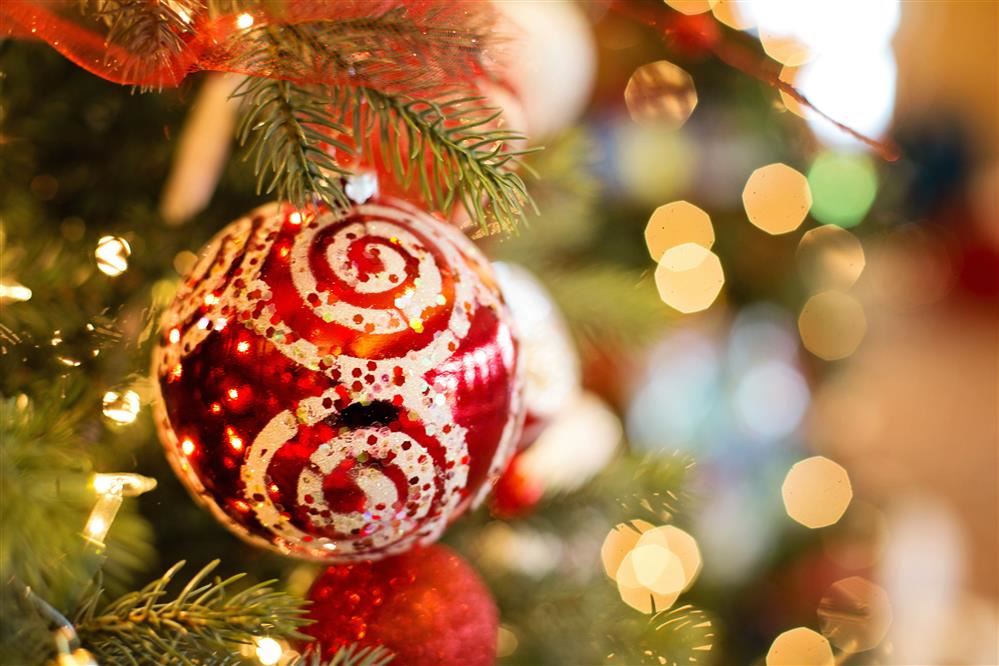 Good morning Richland! It's a chilly Tuesday but we're glad you're here with us.

Today is National Pie Day, AND Eat a Red Apple day. How about we combine them and eat apple pie today?? Yay! Well, if you're lucky enough to have some pie today, enjoy it for me! Have a great day!

¡Buenos días Richland! Es un martes frío, pero nos alegra que esté aquí con nosotros.

Hoy es el día nacional de la tarta y el día de comer una manzana roja. ¿Qué tal si los combinamos y comemos tarta de manzana hoy? ¡Yay! Bueno, si tienes la suerte de comer un pastel hoy, ¡disfrútalo! ¡Que tengas un gran día!

12/1/2020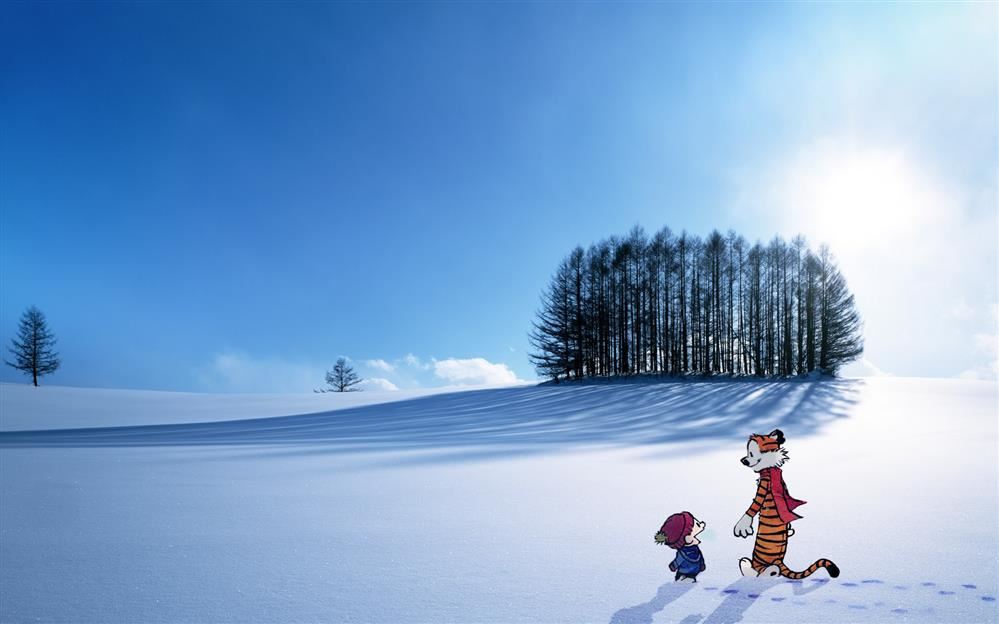 Good morning everyone, welcome back! I hope you had a great Thanksgiving with your family. I know for most of us it wasn't the normal holiday we have come to love and expect. However, we still had the time to look back and be thankful for those around us. We are glad to have you online with us, and we look forward to the day when we can finally meet in person.

Just a reminder of the modified lunch pick-up schedule. I have included the schedules again just to be sure that everyone has them available.

Thank you and have a wonderful day!

¡Buenos días a todos, bienvenidos de nuevo! Espero que haya tenido un gran Día de Gracias con su familia. Sé que para la mayoría de nosotros no fueron las vacaciones normales que hemos llegado a amar y esperar. Sin embargo, todavía tuvimos tiempo para mirar atrás y estar agradecidos por quienes nos rodean. Nos complace tenerlo en línea con nosotros y esperamos el día en que finalmente podamos conocernos en persona.

Solo un recordatorio del horario modificado de recogida del almuerzo. He incluido los horarios nuevamente solo para asegurarme de que todos los tengan disponibles.

¡Gracias y tenga un maravilloso día!

11/30/2020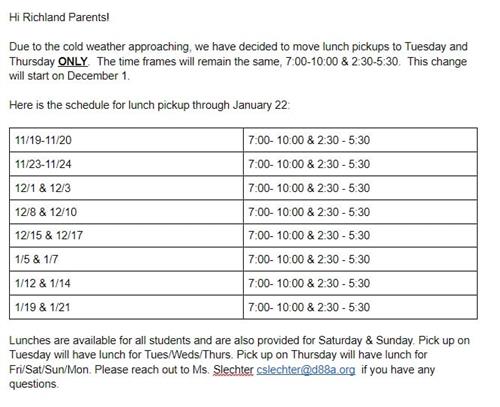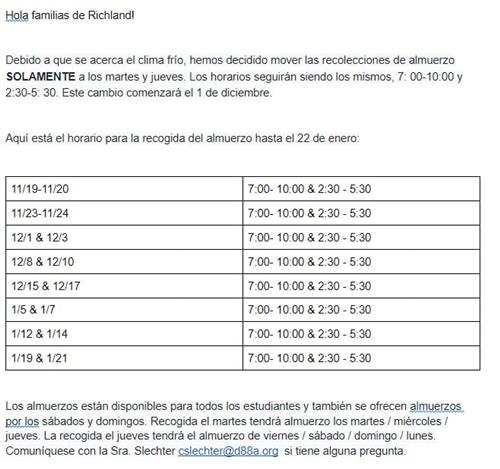 Good morning Richland. It is a snowy and rainy morning, but we're here together and that makes it ok. This is our last day of classes this week, so please be sure to complete any work that your teacher needs you to complete. Tomorrow you are off so that your parents can meet with your teachers, then we're off for 2 days for Thanksgiving. Yummy!

Today is Celebrate Your Unique Talent day! Do you have a unique talent? Maybe you can clean your room faster than your sibling? Maybe you can do jumping jacks while saying the alphabet backwards? Whatever it is, be sure to show it off today!

From the Richland family to yours, have a wonderful Thanksgiving and please be safe out there. Wear a mask, and wash your hands for at least 15 seconds. Have a wonderful weekend!

Buenos días Richland. Es una mañana nevada y lluviosa, pero estamos aquí juntos y eso lo hace bien. Este es nuestro último día de clases esta semana, así que asegúrese de completar cualquier trabajo que su maestro necesite que complete. Mañana no tendras clases para que tus padres puedan reunirse con tus profesores, luego nos toca 2 días para el Día de Gracias. ¡Sabroso!

¡Hoy es el día de Celebre su Talento Único! ¿Tienes un talento único? ¿Quizás puedes limpiar tu habitación más rápido que tu hermano? ¿Quizás puedas hacer saltos mientras dices el alfabeto al revés? Sea lo que sea, ¡asegúrate de lucirlo hoy!

De la familia Richland a la suya, tenga un maravilloso Día de Gracias y esté seguro. Use una mascarilla y lávese las manos durante al menos 15 segundos. ¡Tener un maravilloso fin de semana!

11/24/2020
It's Monday everyone, let's have a great week! It's great not only because the sun is shining and we're able to be together, but also because this week is Thanksgiving! I know, it won' tbe the same as usual, with most of us not being able to gather with large groups of family, but it is still a special day. Even if you have the same dinner as always, it will be a special day because you can tell each other how thankful you are to be together during this crazy time.

How about a fun fact for today? Did you know that on this date, November 23, way back in 1897, John Lee Love was awarded patent number 594114 for his invention, the pencil sharpener!! What would we be doing without his invention? Maybe rubbing our pencils on rocks until it had a point? Chewing on it? Yuck! Whatever we would be doing, it wouldn't be as easy and appreciated as a pencil sharpener. Thanks Mr Love!

Here's a reminder everyone, we only have school 2 days this week. Today and tomorrow. We will be closed on Wednesday so your parents can finish conferences, then it will be Thanksgiving! Our teachers need time with their families just like you, so we'll all be home with our loved ones. Thank you everyone, and let's have a great week!

¡Ya es lunes, que tengamos una gran semana! ¡Es genial no solo porque el sol brilla y podemos estar juntos, sino también porque esta semana es el Dia de Gracias! Lo sé, no será lo mismo que de costumbre, ya que la mayoría de nosotros no podremos reunirnos con grandes grupos de familia, pero sigue siendo un día especial. Incluso si tienen la misma cena de siempre, será un día especial porque pueden decirse lo agradecidos que están de estar juntos durante este tiempo loco.

¿Qué tal un dato divertido de hoy? ¿Sabías que en esta fecha, 23 de noviembre de 1897, John Lee Love recibió la patente número 594114 por su invento, el sacapuntas? ¿Qué estaríamos haciendo sin su invento? ¿Quizás frotar nuestros lápices en las rocas hasta que tenga un punto? ¿Lo mastica? ¡Qué asco! Hagamos lo que hagamos, no sería tan fácil y apreciado como un sacapuntas. ¡Gracias Mr Love!

Aquí les recordamos a todos, solo tenemos clases 2 días esta semana. Hoy y mañana. Cerraremos el miércoles para que sus padres puedan terminar las conferencias, ¡entonces será el Día de Acción de Gracias! Nuestros maestros necesitan tiempo con sus familias al igual que usted, así que todos estaremos en casa con nuestros seres queridos. ¡Gracias a todos y tengamos una gran semana!

11/23/2020
Happy Friday everyone! Short blurb so that you aren't overloaded after all the information that went home yesterday. The weather will be nice, so please get outside after school today and take advantage of it. Have a wonderful weekend everyone! Sending you all a big virtual hug!

¡Feliz Viernes a todos! Una note breve para que no esté sobrecargado después de toda la información que llegó a casa ayer. El clima estará agradable, así que por favor salga hoy después de la escuela y aproveche. ¡Que tengan todos un maravilloso fin de semana! ¡Les mando a todos un gran abrazo virtual!

11/20/2020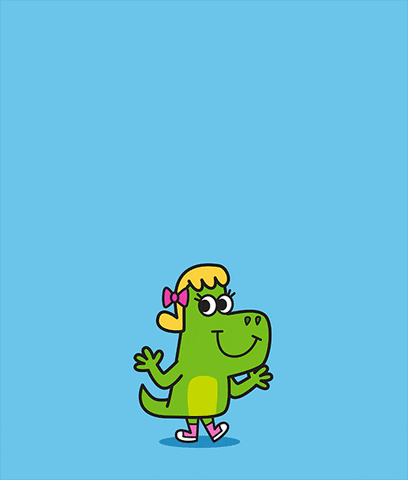 Please note the important information below
Good evening Richland. Included in this post is important information about the upcoming weeks. Next week, students will be in attendance for only 2 days, Monday 23rd and Tuesday 24th of November. Students will then be off for conferences and the Thanksgiving holiday. If you have not scheduled a conference with your student's teacher, please do so immediately.

Below, you will find the graphic showing changes to our lunch distribution schedule. Due to the cold weather approaching, we have decided to move lunch pickups to Tuesday and Thursday ONLY. The time frames will remain the same, 7:00-10:00 & 2:30-5:30. This change will start on December 1.

Also included is information for you about the upcoming Erin's Law presentations that schools are required to provide to students in all grade levels once per year. Please read the attached information about the presentations, which will be taking place during part of the students' school day on December 2nd or 3rd.

As always, if you have any questions or concerns, please send us an email and we will get back to you as soon as we can. Thank you and have a wonderful weekend, and a fantastic Thanksgiving.

Buenas noches Richland. En esta publicación se incluye información importante sobre las próximas semanas. La semana que viene, los estudiantes estarán presentes por solo 2 días, el lunes 23 y el martes 24 de noviembre. Los estudiantes luego saldrán a conferencias y al feriado de dia de Gracias. Si no ha programado una conferencia con el maestro de su estudiante, hágalo de inmediato.

A continuación, encontrará el gráfico que muestra los cambios en nuestro horario de distribución de almuerzos. Debido a que se acerca el clima frío, hemos decidido mover las recolecciones de almuerzo SOLAMENTE a los martes y jueves. Los horarios seguirán siendo los mismos, 7: 00-10: 00 y 2: 30-5: 30. Este cambio comenzará el 1 de diciembre.

También se incluye información para usted sobre las próximas presentaciones de la Ley de Erin que las escuelas deben proporcionar a los estudiantes de todos los niveles una vez al año. Por favor lea la información adjunta sobre las presentaciones, que se llevarán a cabo durante parte de la jornada escolar de los estudiantes el 2 o 3 de diciembre.

Como siempre, si tiene alguna pregunta o inquietud, envíenos un correo electrónico y nos comunicaremos con usted lo antes posible. Gracias y que tengan un fin de semana maravilloso y un Día de Gracias fantástico.

11/19/2020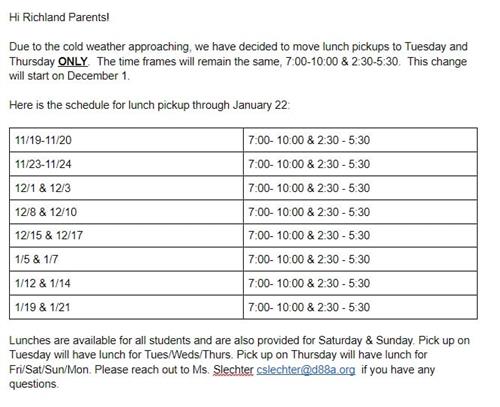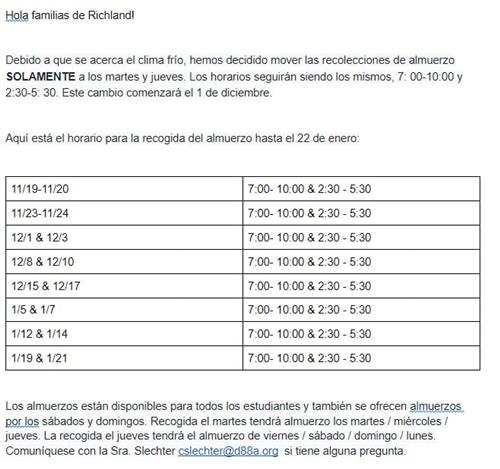 Good morning everyone, happy Thursday. Today is Use Less Stuff Day, so let's see how few things you can use during the course of your day. It will be an interesting experiment for sure. Please get outside later today and enjoy the nice weather. Be careful though, as it might be really windy!! Have a great day!

Buenos días a todos, feliz jueves. Hoy es el día para usar menos cosas, así que veamos cuántas cosas puedes usar durante el transcurso del día. Seguro que será un experimento interesante. Salga más tarde hoy y disfrute del buen clima. Sin embargo, ten cuidado, ya que puede hacer mucho viento. ¡Que tengas un gran día!

11/19/2020
Hello everyone, I hope the bright sunshine finds you well! It is Wednesday, and the weather isn't bad at all. Tomorrow will be nice too, but super windy. Just a reminder that this week we have our Board of Education meeting, which is happening tonight at 7 pm. Please remind your parents in case they want to stop by. Today is also the day for 3 important things...First, it's Mickey Mouse day! It's also National Princess day! 2 good ones! Even more important for us, it is National Educational Support Professionals day! We appreciate our support staff very much, and we know that we are a better school because of them and all of their efforts. If you are lucky enough to have a support person in your classroom, be sure to tell them 'thank you' for all of their hard work! Tomorrow our weekly phone call will go out with any updated information for the upcoming week. Have a wonderful day everyone!

Hola a todos, ¡espero que el sol brillante los encuentre bien! Es miércoles y el tiempo no está nada mal. Mañana también será agradable, pero con mucho viento. Solo un recordatorio de que esta semana tenemos nuestra reunión de la Junta de Educación, que se llevará a cabo esta noche a las 7 pm. Por favor, recuérdales a tus padres en caso de que quieran pasar. Hoy también es el día de 3 cosas importantes ... Primero, ¡es el día de Mickey Mouse! ¡También es el día nacional de la princesa! 2 buenos! Aún más importante para nosotros, ¡es el día nacional de los profesionales de apoyo educativo! Apreciamos mucho a nuestro personal de apoyo y sabemos que somos una mejor escuela gracias a ellos y a todos sus esfuerzos. Si tiene la suerte de tener una persona de apoyo en su salón de clases, asegúrese de decirle 'gracias' por todo su arduo trabajo. Mañana saldrá nuestra llamada telefónica semanal con cualquier información actualizada para la próxima semana. ¡Que todos tengan un maravilloso día!

11/18/2020
Good morning everyone; I hope you had a fun weekend! Please remember that lunch pick up times are back to normal, 7-10 am and 2:30 - 5:30 pm. If you did not pick up your supplies last week, please call or email and you can pick them up this week. DO NOT just come to school, please notify us first so that we can be ready. Next week is conferences, and if your parents haven't heard from your teacher yet, please tell them to reach out to get them scheduled. Today is National Fast Food day! While it is yummy, fast food isn't really the most healthy option. Still, having it every now and then is such a delicious treat! Stay warm out there and have a wonderful day!

Buenos días a todos; ¡Espero que hayas tenido un fin de semana divertido! Recuerde que los horarios para recoger el almuerzo vuelven a ser normales, de 7 a 10 am y de 2:30 a 5:30 pm. Si no recogió sus útiles la semana pasada, por favor llame o envíe un correo electrónico y podrá recogerlos esta semana. NO venga simplemente a la escuela, por favor notifíquenos primero para que podamos estar listos. La próxima semana son las conferencias, y si tus padres aún no han tenido noticias de tu maestro, diles que se comuniquen con ellos para programarlos. ¡Hoy es el día nacional de la comida rápida! Si bien es delicioso, la comida rápida no es realmente la opción más saludable. Aún así, tenerlo de vez en cuando es un placer delicioso. ¡Manténgase abrigado y tenga un día maravilloso!

11/16/2020
Happy Friday Richland! It's a little chilly this morning so be sure to stay warm. It'll be a little better later, but this morning breeze is strong! Today is World Kindness Day. A day where we can do our best to do something kind for someone. Today is the last scheduled day to pick up supplies. If your family can't make it to school, please give us a call and you can pick up supplies next week. Let's finish this week strong everyone. Make sure you wear a mask if you have to go somewhere, and always wash your hands for 15 seconds if you touch something outside of your home. Have a wonderful day and an even better weekend! Stay safe out there!

¡Feliz Viernes Richland! Hace un poco de frío esta mañana, así que asegúrate de mantenerte caliente. Estará un poco mejor más tarde, ¡pero esta mañana la brisa es fuerte! Hoy es el Día Mundial de la Amabilidad . Un día en el que podamos hacer todo lo posible para hacer algo amable por alguien. Hoy es el último día programado para recoger suministros. Si su familia no puede ir a la escuela, por favor llámenos y podrá recoger los útiles la semana que viene. Terminemos esta semana fuertes! Asegúrese de usar una máscara si tiene que ir a algún lugar y siempre lávese las manos durante 15 segundos si toca algo fuera de su casa. ¡Que tenga un día maravilloso y un fin de semana aún mejor! ¡Mantente a salvo ahí fuera!

11/13/2020
Good morning Richland! It is Thursday and the sun is shining, so let's have a big smile! I hope you had a chance to show your appreciation to a veteran yesterday. I actually had dinner with my Dad who served in the Vietnam War. I'm very proud of him. Today is International Guinness World Records Day! Maybe you'll be able to set a record today, but if not, check out their website, https://www.guinnessworldrecords.com/ to not only see some cool records, but to find out how to set your own! Don't forget, you still have today and tomorrow to pick up supplies for this second quarter. If your parents have any questions, they can call or email the office. Thank you everyone and have a wonderful day!

¡Buenos días Richland! Es jueves y el sol está brillando, ¡así que tengamos una gran sonrisa! Espero que ayer haya tenido la oportunidad de mostrar su agradecimiento a un veterano. De hecho, cené con mi papá que sirvió en la guerra de Vietnam. Estoy muy orgulloso de él. ¡Hoy es el Día Internacional de los Récords Mundiales Guinness! Tal vez puedas establecer un récord hoy, pero si no, visita su sitio web, https://www.guinnessworldrecords.com/, no solo para ver algunos récords geniales, ¡sino para descubrir cómo establecer el tuyo! No olvide que todavía tiene hoy y mañana para recoger suministros para este segundo trimestre. Si sus padres tienen alguna pregunta, pueden llamar o enviar un correo electrónico a la oficina. ¡Gracias a todos y que tengan un día maravilloso!

11/12/2020
Good morning Richland, happy Monday. We have great weather predicted for today, so I hope you can enjoy it after school. On Wednesday it will be Veteran's Day, a day when we honor all of those that have served in the military. If you have a veteran in your family, give them a big hug and thank them for proudly wearing the Stars and Stripes. If your parents read this page with you, remind them that lunch pick up is back on the regular schedule. 7-10 am and 2:30 - 5:30 pm. Also let your parents know that if they did not receive your report card to please let us know. Thank you and have a wonderful day!

Buenos días Richland, feliz lunes. Tenemos un clima excelente para hoy, así que espero que lo disfruten después de la escuela. El miércoles será el Día de los Veteranos, un día en el que honramos a todos aquellos que han servido en el ejército. Si tienes un veterano en tu familia, dale un gran abrazo y agradécele por lucir con orgullo las barras y estrellas. Si sus padres leen esta página con usted, recuérdeles que la recogida del almuerzo ha vuelto al horario habitual. 7-10 am y 2:30 - 5:30 pm. También infórmeles a sus padres que si no recibieron su calificaciones, háganoslo saber. ¡Gracias y tenga un maravilloso día!

11/9/2020
Good morning and happy Friday everyone! We have another great day ahead of us, so please go outside later and enjoy it. Today is National Jersey Friday where you are encouraged to wear the jersey of your favorite team, and it is also National Nachos Day! Yummy!! Maybe you can have some later while you wear your favorite jersey! Good luck!

As promised, report cards will be emailed later today. Please remind your parents to be on the lookout for those. Also, next week we will return to our regular schedule for passing out lunches. Parents can pick up lunches from 7 - 10, or from 2:30 - 5:30 at door 6. Thank you and have a wonderful weekend!

¡Buenos días y feliz viernes a todos! Tenemos otro gran día por delante, así que sal más tarde y disfrútalo. Hoy es Viernes Nacional de Jersey, donde se le anima a usar la camiseta de su equipo favorito, ¡y también es el Día Nacional de Nachos! ¡¡Sabroso!! ¡Quizás puedas tener un poco más tarde mientras usas tu camiseta favorita! ¡Buena suerte!

Como se prometió, las calificaciones se enviarán por correo electrónico más tarde. Por favor, recuérdales a tus padres que estén atentos a esos. Además, la próxima semana volveremos a nuestro horario habitual para repartir almuerzos. Los padres pueden recoger los almuerzos de 7 a 10, o de 2:30 a 5:30 en la puerta 6. ¡Gracias y que tengan un fin de semana maravilloso!

11/6/2020
Good morning Richland! It's going to be another great day with lots of sunshine, so get ready to enjoy it! How about we start today with a joke? What is fast, loud, AND crunchy? A rocket chip! Ha!

Reminder that we will be sending home report cards on Friday, remind your parents to be on the lookout for those. Have a wonderful day everyone!

¡Buenos días Richland! Va a ser otro gran día con mucho sol, ¡así que prepárate para disfrutarlo! ¿Qué tal si empezamos hoy con una broma? ¿Qué es rápido, ruidoso y crujiente? ¡Un chip de cohete! ¡Jajaja!

Recuerde que enviaremos a casa las calificaciones el viernes, recuerde a sus padres que estén atentos a ellas. ¡Que todos tengan un maravilloso día!

11/5/2020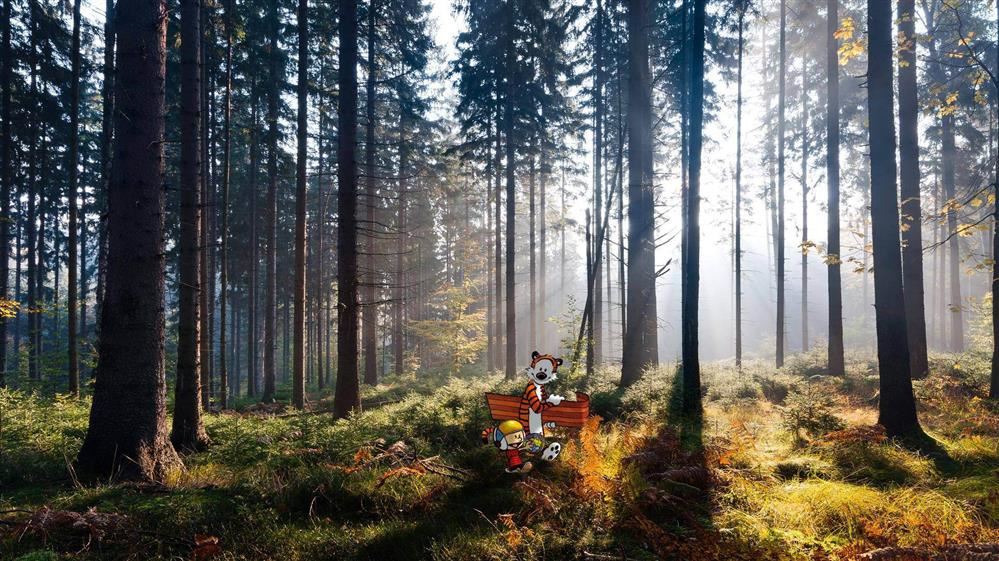 Good morning everyone, happy November! I hope you had a chance to enjoy the warmth and sunshine over the last few days. Today is November 4 and we're so glad to be back together with you! As you know, this Friday, November 6, we will be sending home report cards. I just know that you are all going to rock it, I believe in you! Today is also kind of odd, because it is National Eating Healthy Day, AND National Candy Day!! Does that mean candy is healthy??? Probably not, but you can still eat healthy and have a treat every now and then. Have a wonderful day everyone, Happy Wednesday!

¡Buenos días a todos, feliz noviembre! Espero que hayas tenido la oportunidad de disfrutar del calor y el sol de los últimos días. ¡Hoy es 4 de noviembre y estamos muy contentos de volver a estar con ustedes! Como saben, este viernes 6 de noviembre enviaremos a casa sus calificaciones. Sé que todos lo van a lucir, ¡creo en ustedes! ¡Hoy también es un poco extraño, porque es el Día Nacional de Comer Saludable y el Día Nacional de los Dulces! ¿Eso significa que los dulces son saludables? Probablemente no, pero aún puede comer sano y darse un capricho de vez en cuando. Que tengan un día maravilloso a todos, ¡Feliz miércoles!

11/4/2020
Good morning everyone, it's finally Friday! The sun is shining and we're all here together, let's have a great day! Today many of you will be having your fall celebration events. I am looking forward to popping into your classrooms and being a part of the fun. I know it stinks that we can't be together to share some laughs, but at least we can see and hear each other and share them via the internet. Stay strong my friends, we will get through this!

Today also happens to be World Lemur Day! It is a day that we work on learning about and protecting the habitat of the Lemur, our oldest primate. If you've seen the movie 'Madagascar' then you would recognize a lemur, because King Julian was a lemur!

It is also Buy a Donut day! Haha! How about that? A special day for one of the tastiest treats ever! Maybe you'll be lucky enough to try one today. I will certainly do my best to go out and grab one.

Please remember, there are NO CLASSES on Monday November 2 or Tuesday November 3. You will return to learn on Wednesday November 4.

Here's to a wonderful day, and a wonderful weekend my friends! Stay safe, be respectful and responsible everyone and we'll see you next week!

Buenos días a todos, ¡finalmente es viernes! El sol esta brillando y estamos todos aquí juntos, ¡que tengamos un gran día! Hoy muchos de ustedes tendrán sus eventos de celebración de otoño. Espero poder entrar en sus aulas y ser parte de la diversión. Sé que apesta que no podamos estar juntos para compartir algunas risas, pero al menos podemos vernos, escucharnos y compartirlas a través de Internet. Manténganse fuertes amigos míos, ¡superaremos esto!

¡Hoy también es el Día Mundial del Lémur! Es un día en el que trabajamos para conocer y proteger el hábitat del lémur, nuestro primate más antiguo. Si has visto la película 'Madagascar', reconocerías a un lémur, ¡porque el rey Julián era un lémur!

¡También es el día de Comprar un Donut! ¡Jaja! ¿Qué hay sobre eso? ¡Un día especial para una de las delicias más sabrosas de la historia! Quizás tengas la suerte de probar uno hoy. Ciertamente haré todo lo posible para salir y agarrar uno.

Por favor recuerde, NO HAY CLASES el lunes 2 de noviembre ni el martes 3 de noviembre. Volverá a aprender el miércoles 4 de noviembre.

¡Por un día maravilloso y un fin de semana maravilloso, amigos! Manténgase a salvo, sea respetuoso y responsable con todos y ¡nos vemos la semana que viene!

10/30/2020
Good morning everyone, happy Thursday! The sun is shining, and even though it's a little chilly it's a great day. Hopefully you'll get a chance to talk a walk later to get some fresh air. We all need it, especially since we have to spend so much time at home. In fact, today is International Internet Day! Boy, am I thankful for the internet. Without it, we wouldn't be able to have school, or do any of the fun things we like such as listen to music, watch movies or play games! It is also National Cat Day. Mr Lindsey is allergic, so I'm not a big fan, but many of you have cats and love them a lot. Give your adorable kitty a nice hug! Reminder that our quarter ends tomorrow and report cards will go home next week. Thanks everyone have a great day!

¡Buenos días a todos, feliz jueves! El sol esta brillando y, aunque hace un poco de frío, es un gran día. Con suerte, tendrás la oportunidad de dar un paseo más tarde para tomar un poco de aire fresco. Todos lo necesitamos, sobre todo porque tenemos que pasar mucho tiempo en casa. De hecho, ¡hoy es el Día Internacional de Internet! Wow, estoy agradecido por el Internet. Sin él, no podríamos ir a la escuela ni hacer ninguna de las cosas divertidas que nos gustan, cómo escuchar música, ver películas o jugar videojuegos. También es el Día Nacional del Gato. Director Lindsey es alérgico, así que no soy un gran admirador, pero muchos de ustedes tienen gatos y los aman mucho. ¡Dale a tu adorable gatito un lindo abrazo! Recuerde que nuestro trimestre termina mañana y las boletas de calificaciones se enviarán a casa la semana que viene. ¡Gracias a todos que tengan un gran día!

10/29/2020
Good morning Richland, it's a wonderful day! Today is Tuesday, and thankfully it isn't raining outside! It's still a little chilly, but it is almost the end of October, so I guess it makes sense. Today is National Potato Day, yum! What is your favorite way to eat potatoes? Whole baked potato? Mashed potatoes? OOooo how about french fries!? I think my favorite way is in tater tots!! MMmmmm Have a great day everyone!

Buenos días Richland, ¡es un día maravilloso! ¡Hoy es martes y afortunadamente no está lloviendo afuera! Todavía hace un poco de frío, pero como es casi el fin de octubre, así que supongo que tiene sentido. Hoy es el Día Nacional de la Papa, ¡mmm! ¿Cuál es tu forma favorita de comer papas? ¿Papa entera al horno? ¿Puré de patatas? OOooo ¿¡qué tal las papas fritas !? Creo que mi forma favorita es en tater tots !! MMmmmm ¡Que tengan un gran día a todos!

10/27/2020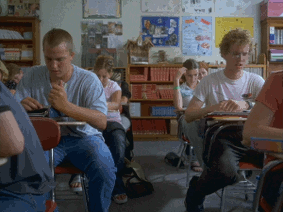 Good morning everyone! Well, it's Monday again, and it's still raining! Geez! It feels like it's been raining for about 6 months now. I know it REALLY hasn't been raining that long, but it has been a lot! At least the plants and trees are getting plenty of water before their long winter naps. I wish WE could take long winter naps, I could certainly use one. Haha One quick note, this Friday, October 30, is the end of the first quarter. Please make sure to get in any missing work so that your teachers can get it graded and put into the gradebook. Your report card will come out the week after that, on Friday November 6. Thank you all and I hope you have a wonderful week! PS. I don't think there is a new moon tonight, but this is one of my favorite Monday songs.

¡Buenos días a todos! Bueno, es lunes de nuevo y ¡todavía está lloviendo! ¡Caramba! Parece que ha estado lloviendo durante unos 6 meses. Sé que REALMENTE no ha estado lloviendo tanto tiempo, ¡pero ha estado lloviendo mucho! Al menos las plantas y los árboles reciben mucha agua antes de sus largas siestas invernales. Ojalá NOSOTROS pudiéramos tomar largas siestas de invierno, ciertamente una me vendría bien. Jaja Una nota breve, este viernes 30 de octubre es el final del primer trimestre. Por favor, asegúrese de realizar cualquier trabajo que falte para que sus maestros puedan calificarlo y ponerlo en el libro de calificaciones. Sus calificaciones saldrá la semana siguiente, el viernes 6 de noviembre. ¡Gracias a todos y espero que tengan una semana maravillosa! PS. No creo que tendremos una nueva luna esta noche, pero este cancion es una de mis favoritas canciones del dia LUNES.
Good afternoon everyone. Due to a rise in COVID infections among staff and the subsequent quarantines, our buildings will be closed from the end of day today October 23, 2020 until Tuesday November 3, 2020. School lunches will still be available, and classes will continue as normal. The graphics below contain hours for lunch pick up. Thank you for your understanding and please stay safe out there.

Buenas tardes a todos. Debido a un aumento en las infecciones por COVID entre el personal y las cuarentenas posteriores, nuestros edificios 
permanecerán cerrados desde el final del día de hoy 23 de octubre de 2020 hasta el martes 3 de noviembre de 2020. 
Los almuerzos escolares seguirán estando disponibles y las clases continuarán con normalidad. 
Los gráficos a continuación contienen horas para recoger el almuerzo. Gracias por su comprensión y por favor manténgase a salvo.

10/23/2020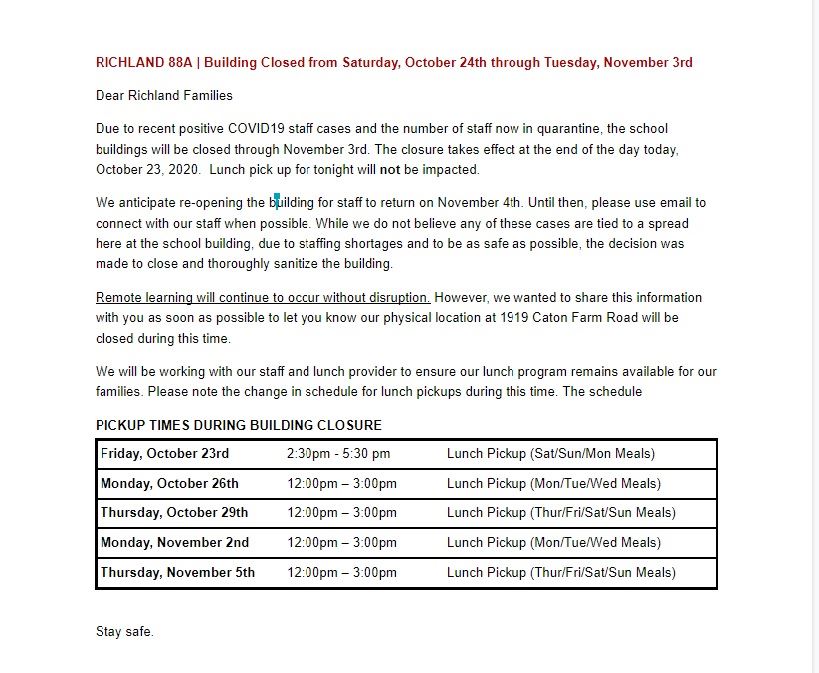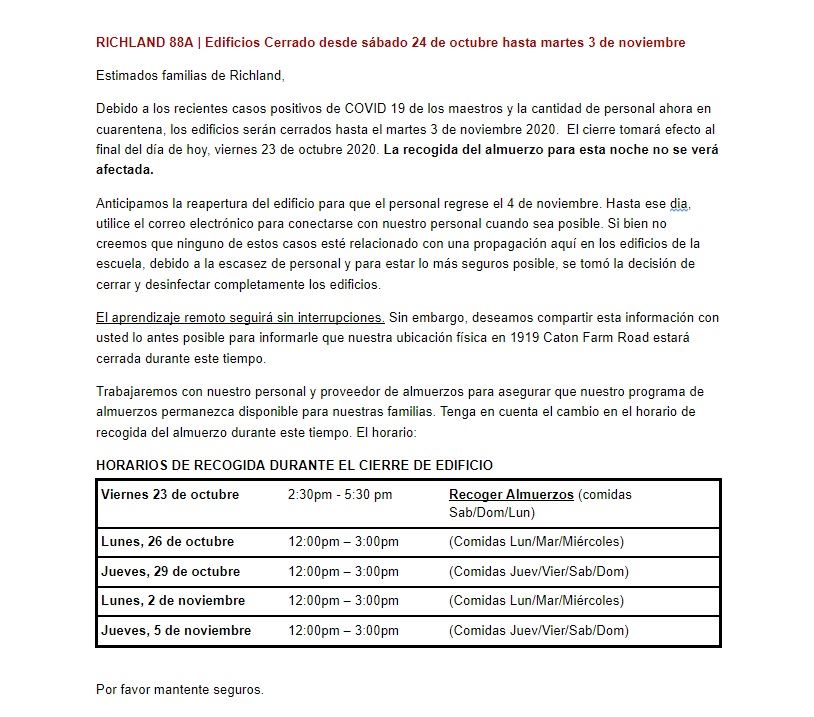 Good morning and happy Friday everyone! It may feel warm out there right now, but it will be cooling off, so make sure you wear a sweatshirt or a jacket if you go for a walk later. I hope you do get a chance to go outside, because the autumn colors look super cool! Below is a cool story to help you get ready for the weekend. Have a great day everyone!

¡Buenos días y feliz viernes a todos! Puede que haga calor ahora mismo, pero se enfriará, así que asegúrese de usar una sudadera o una chaqueta si sale a caminar más tarde. Espero que tengas la oportunidad de salir, ¡porque los colores del otoño se ven súper geniales! A continuación se muestra una historia interesante que le ayudará a prepararse para el fin de semana. ¡Tengan todos un buen día!

10/23/2020
Good morning everyone, and happy Thursday. It's raining outside, but its warm and dry inside, so let's make it a great day! In fact, today is Smart is Cool Day! I mean, EVERY day it's cool to be smart, but ESPECIALLY today! WOW! GUESS WHAT??? IT IS ALSO INTERNATIONAL CAPS LOCK DAY! MY KEYBOARD IS LOCKED ON ALL CAPS! Ok, I'll take it off so it doesn't seem like I'm yelling. :-) Here's to a great day everyone!

Buenos días a todos y feliz jueves. Afuera está lloviendo, pero adentro esta seco y muy comodo, ¡así que hagamos que sea un gran día! De hecho, ¡hoy es el dia de ser inteligente es genial! Quiero decir, TODOS los días es genial ser inteligente, ¡pero ESPECIALMENTE hoy! ¡GUAUU! ¿¿¿ADIVINA QUÉ??? ¡TAMBIÉN ES EL DÍA INTERNACIONAL DEL BLOQUEO DE GORRAS! ¡MI TECLADO ESTÁ BLOQUEADO EN TODAS LAS MAYÚSCULAS! Ok, me lo quitaré para que no parezca que estoy gritando. :-) ¡Por un gran día a todos!


10/22/2020
Good morning Richland, happy Friday! I know it's a little chilly out there, but the sun is shining and we're able to be together so it's a great day! Today is National Learn a Word Day. A day where we highlight the coolness of learning a new word. I'd like to introduce the word 'pachyderm' which is the word that describes a certain kind of mammal. This group includes elephants, hippopotamus, and rhinoceros, that have thick skin and hooves or nails that resemble hooves. Cool!! Have a wonderful weekend everyone!

¡Buenos días Richland, feliz viernes! Sé que hace un poco de frío, pero el sol brilla y podemos estar juntos, ¡así que es un gran día! Hoy es el Día Nacional de Aprender una Palabra. Un día en el que destacamos la frescura de aprender una nueva palabra. Me gustaría introducir la palabra 'paquidermo', que es la palabra que describe cierto tipo de mamífero. Este grupo incluye elefantes, hipopótamos y rinocerontes, que tienen piel gruesa y pezuñas o uñas que se asemejan a pezuñas. ¡¡Cool!! ¡Que tengan todos un maravilloso fin de semana!

10/16/2020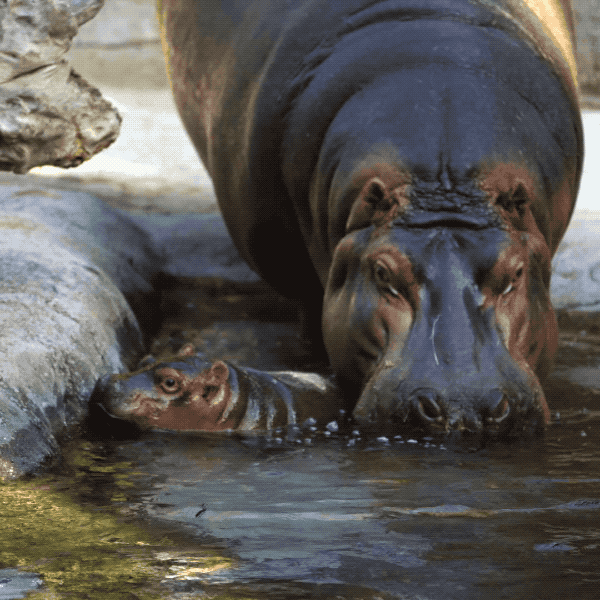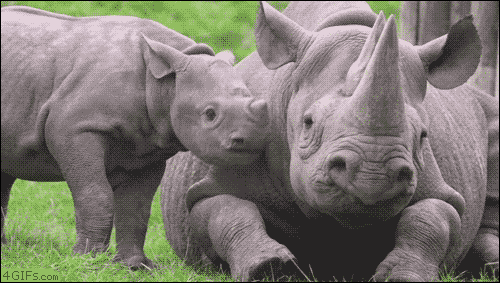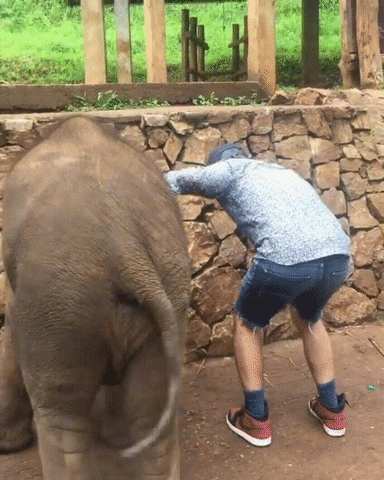 Good morning Richland and welcome to this wonderful Thursday morning. I hope you have a wonderful day. It is a day that is full of excitement to say the least. Can you believe that today is Global Handwashing Day, (How timely!) National Pug Day (Aren't they the cutest??), and Conflict Resolution Day, where we work on ways to resolve our differences creatively and peacefully. This is another one that is really important for us all. Whether we are in a disagreement with our siblings, or someone that we work with, trying to resolve our issues calmly always helps. It is also the end of Hispanic Heritage Month and I've included one of my favorite songs. I hope you like it. Have a great day everyone!

Buenos días Richland y bienvenido a esta maravillosa mañana de jueves. Espero que tengas un maravilloso día. Es un día lleno de emoción por decir lo mínimo. ¿Puedes creer que hoy es el Día Mundial del Lavado de Manos, (¡Qué oportuno!) El Día Nacional del Pug (¿No son los más lindos?) Y el Día de Resolución de Conflictos, donde trabajamos en formas de resolver nuestras diferencias de manera creativa y pacífica. Este es otro que es realmente importante para todos nosotros. Ya sea que estemos en desacuerdo con nuestros hermanos o con alguien con quien trabajamos, tratar de resolver nuestros problemas con calma siempre ayuda. También es el final del Mes de la Herencia Hispana y he incluido una de mis canciones favoritas. Espero que te guste. ¡Tengan todos un buen día!

10/15/2020
El Watusi - Ray Barretto

One of Mr Lindsey's favorites!

Chromebook Reminder - Spanish

Chromebook Reminder - English
Welcome to




Richland Elementary

---

Hello everyone, and welcome to Richland Elementary. I am Joseph Lindsey, Principal, here at Richland. This is my 5th year as an Eagle, and it keeps getting better! As we begin the 2020 school year, things sure do look different!!! I would like to remind everyone that we are here for you should you ever have a question or concern. On our site you will find links to all of our teacher's email addresses so that you can reach out to them whenever you need. You will also find links for transportation questions, lunch concerns, English Language Learners, student services, and links to our social media pages. If, for some reason, you cannot find the answer you are looking for, please email us and we will get back to you as soon as possible. Thank you for visiting our homepage, we look forward to working with you!